December Employee Highlight 2022
Meet JJ, Our Front Office Registration Specialist
This month we are dedicating our employee highlight to a very special member of our staff, JJ.
We suppose it would be safe to say that JJ is the face of our office. Working at the front desk, her warm smile and helpful demeanor is the first thing our patients notice. JJ is the first point of contact and the start of our effort to offer our patients the best care experience possible.
Although JJ started working in the healthcare industry eleven years ago, we were fortunate enough to bring her on board two years ago. Her role at our company involves greeting patients when they arrive at our facility. She takes care of their registration and checks patients out when they are ready to go home. In addition, she makes sure to send all our patients a thank-you card. We do this to show them how appreciative we are that they trusted us to care for them.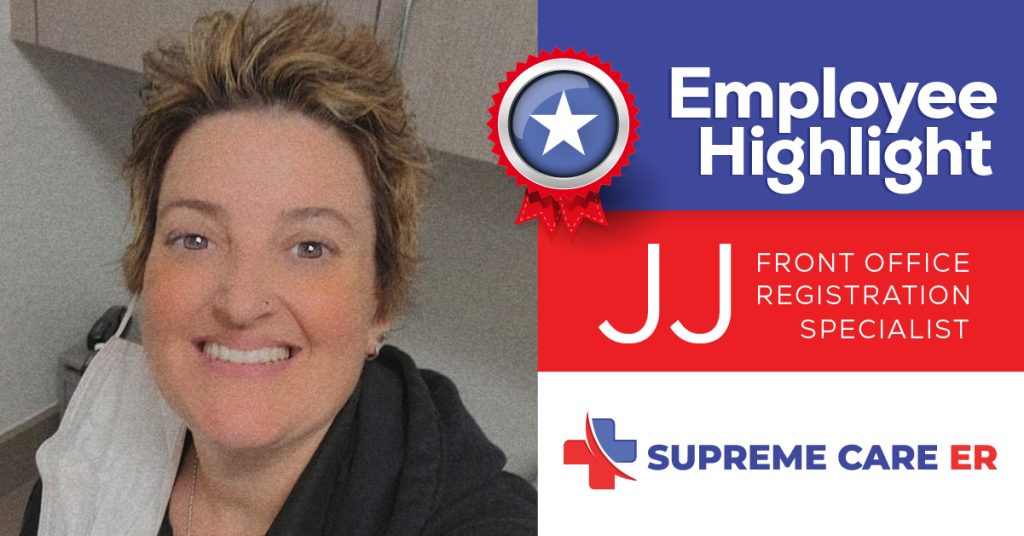 JJ has a fascinating backstory; she was born in Africa but is Lebanese. You will be surprised to learn that healthcare was not her original calling; she is, in fact, a gifted chef who owned a 5-star restaurant when she lived in Africa. Her restaurant provided international cuisine for the United Nations Army stationed there.
Sadly both she and her parents, who owned a hotel in West Africa, lost it all due to war conflicts. She moved to the US in 1998 after her restaurant burned down due to the war.
JJ is resilient and made a promise to herself not to let the events of the past destroy her future. Living through such traumatic events has helped her become more aware of other people's plights. That is why she works hard to ensure our patients have the best experience possible. As a matter of fact,  when we asked her what her favorite part of working at Supreme Care ER was, she answered that it was being able to help people.
The first thing you should know about JJ is that she is super intelligent and loves languages. She speaks 6 of them, Indian, Arabic, Egyptian, Russian, Italian, Liberian/African.
As you can imagine, she has a passion for cooking. But she also loves movies (her favorite movie is  "As Good as it Gets") and playing games.
Ever wondered what local restaurant a chef would recommend? Well, we've got the answer. JJ's favorite restaurant in town is Kasra which serves Persian and Iranian food.
Another fun fact is that JJ has a youtube channel called true crime by JJ. We urge you to check it out and follow along if you like it.
Since JJ arrived two years ago, she quickly became an invaluable member of our staff, and we thank her for daily enriching our lives.
We hope you will join us in congratulating and thanking JJ, our Employee Highlight December 2022 for her extraordinary contributions to our organization.